Getting the right music for your wedding, anniversary, bar mitzvah, or holiday party can be tricky. The Redeemers go to great lengths to make sure they deliver exactly what you need for your event, big or small. Got questions? We got answers.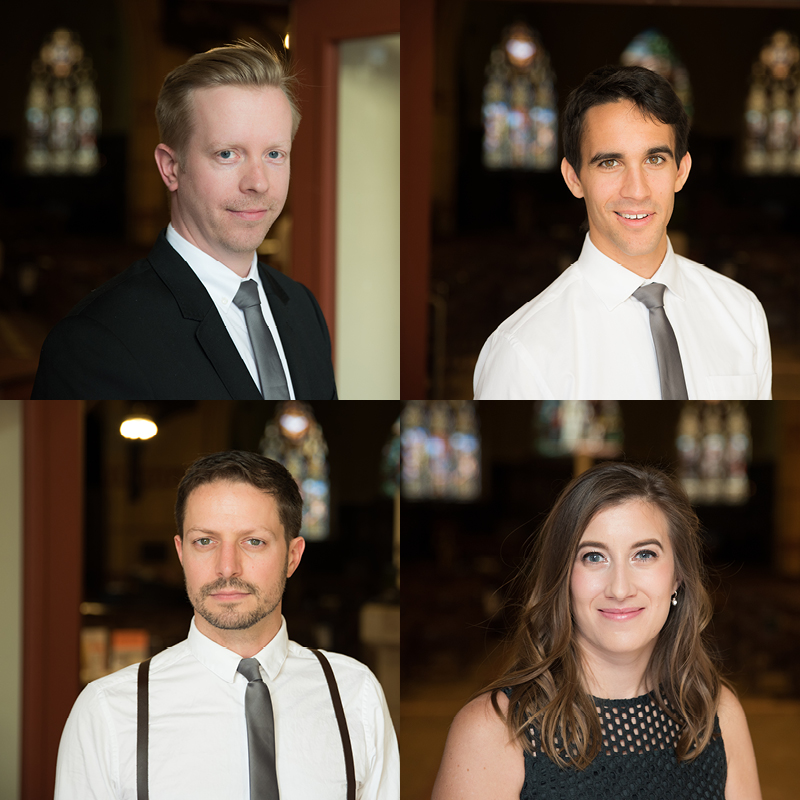 How would you describe your style?
We do classic doo wop, soul, and contemporary pop, but are also incredibly versatile. Do you want an elegant cocktail party with casual conversation? We can turn up the ballads and turn down the decibels! Do you want to get people on the dance floor, singing along to tunes they know? We've got that covered too. Check out our repertoire list for a sample of tunes we've done before, or reach out to us here if you have a specific song in mind and want to know if we can put it together. We haven't said no to a request yet!
Can we come listen to you perform?
Absolutely! While we mostly do private functions (we wouldn't invite people to your wedding), we do perform from time to time at locations around the GTA like the Gladstone Hotel . It's always a good idea to see whether a band is a good fit, so follow us here for the latest on where and when we'll be performing live.
Where have you performed? Can you work directly with the venue?
There are few spots in the GTA where we haven't performed, and we are always happy to work directly with the venue. From load-in times to backup generators to where the washrooms are, we'll worry about what we need so you don't have to. We got you.
Do you take special requests (such as a traditional Jewish hora tune or a favourite pop hit)?
You bet we can! We have taken MANY requests over the years. These are mostly included in our pricing, unless it is a complex or obscure song that requires more time to prepare in advance.
How many musicians are available? How many vocalists? Are there different options as far as how many musicians we can hire?
We have a variety of configurations depending on your needs, from a 12 piece band to vocal or instrumental soloists. Our standard group for a cocktail reception is 3-5 vocalists and an instrument (guitar or piano). For larger events we go with a 3-4 piece band or larger, depending on the venue and what YOU want.

Can you advise us on songs that might be appropriate for our event? Do I need to pick every song you perform?
We can absolutely advise you on what you might need, and no, you don't have to pick all the songs yourself. We've performed at hundreds of events and can give you plenty of guidance.
Do we need to rent any instruments or equipment?
Definitely not. We take care of everything. Whether it is instruments or extra speakers, we will work with the venue directly to use any available equipment they have to keep your rental costs down and to ensure there is space to hide equipment and cables.

Do you plan to use lighting or any other special effects?
We do not. But we are happy to put you in touch with vendors who do.
Who will do the setup and teardown?
We do! Simply give us your timelines and put us in touch with the venue coordinator and we'll take care of the rest. You got enough to worry about!
How do you ensure a comfortable sound level for all the guests?
We work closely with clients and venues to ensure the levels are appropriate to the festivities. We can go sound system free in small intimate rooms, or bring out the big guns to power the end of the night dance-off. We are flexible and ready to rock!
What do you typically wear?
Check us out here. We have also been known to add a little seasonal flare from time to time. Got a specific look you are going for, just ask us!
How many hours are included in the package?
We have been asked to perform anywhere from 15 minutes to two hours (two 45 minute sets). We generally don't go much beyond that. We're singers, not machines!

How do you handle song requests from guests?
We are happy to take requests from your guests (assuming we know it), but we would check with you in advance to confirm what you would like. Maybe you don't want "Back in Black" right after your first dance!

Are you able to MC our event, or make introductions or announcements?
Sure! We can introduce the speech givers, announce your first dance or tell people when dinner is served.

How big is your repertoire list?
How big is your imagination?!?  You can find our current repertoire list here, but with enough heads up, we can arrange anything you need.  Challenge us!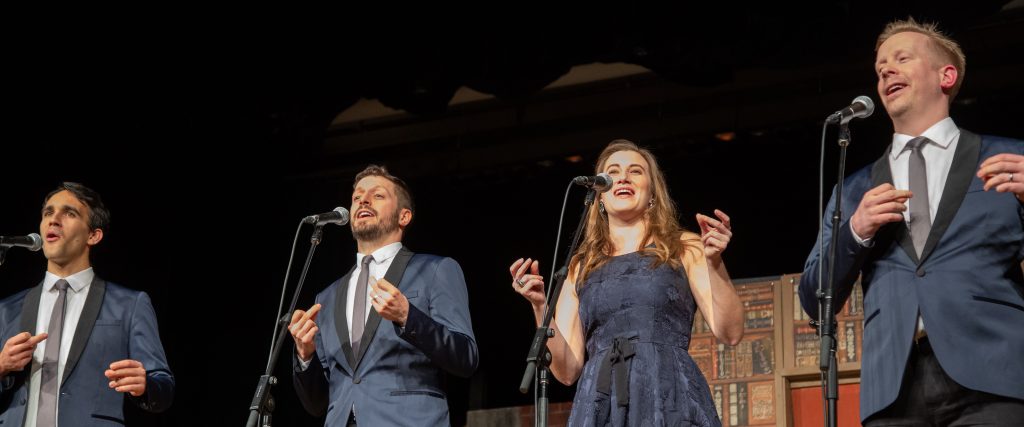 How many weddings have you performed at?
We have over a 100+ wedding performances under our belts and happy to connect you with some happy couples who we've had the great pleasure of perform for.

Do you have a specialty?
Well, yeah….doo wop! That said, we all come from different vocal backgrounds and found each other through singing choral music. Since then we have had requests to sing all sorts of things from bluesy pre-rock'n'roll, R & B, contemporary pop, Christian rock ballads, country, bluegrass, rock, jazz standards, top 40, and jingles. You name it – we've done it!

Are the recordings on your website live or produced in a studio? Is the sound technically enhanced?
Everything you see and hear is done live on the floor. We don't use fancy audio designers or auto-tuning. What you see/hear is what you get!
Do you perform live or to tracks?
All live. All the time.
Can you supply your master playlist in advance?
Sure thing! We are happy to alter it as you see fit. Check out a sample of our repertoire here.
Can you design an itinerary for the night?
Happy to. We've done this enough that we are glad to collaborate and share our experience with you to make sure everything flows during your event.